The term femme fatale literally means deadly woman, but the only thing she usually bludgeons is the male ego. As you'll soon discover, she much prefers to outsource her dirty work.   She is a beguiling figure of film noire, the gritty, crime-driven genre born of widespread disillusionment following the Depression and World War II.
Who is she?
At first glance, the femme fatale is an alluring woman who charms a man into a  precariously asymmetrical relationship, and then leads him directly into harms way.  She is a sight to behold, first appearing  atop a winding staircase, in nothing but a towel, anklet and cheap wig– or perhaps sauntering  through the sticky Florida heat in chiffon dress that suggests, underneath, a body made for sin.
Her erotic energy is palpable. The meter of her speech, the texture of her voice, the curve of her gait– everything is choreographed for maximum hypnotic effect. Equal parts mesmerizing and machiavellian, she lulls her victims into unfamiliar emotional terrain–using her body as a precipice  upon which  one might risk life and limb.
Who is she, really? 
A patriarchal inversion— a smart woman who uses her feminine wiles against men, as a means to gain power and independence in a domain where woman have neither.
A fulcrum around which events turn— she acts on desire, rather than wait to become the object of someone else's.
A transgressor of societal norms— her very existence, even on celluloid, threatens to undermine  womanhood as we know it. She represents an alternative model for femininity–a woman who is bold, sexually autonomous, smart, and selfish– that is, she uncharacteristically places her own needs and desires before others.
The Vagina Has Teeth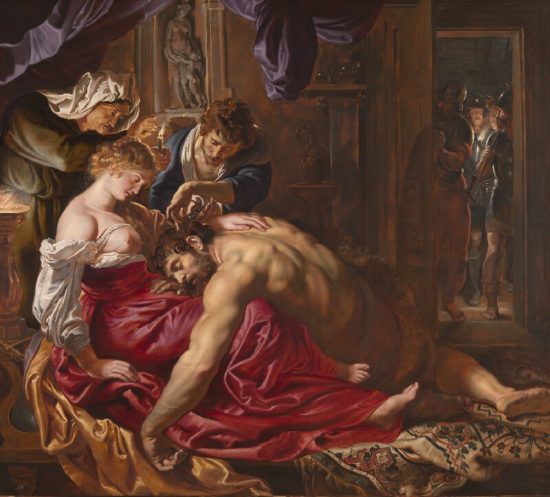 She is the culmination of male awe and angst surrounding unbridled female sexuality–the imminent threat of being totally consumed in a woman's physical and emotional body, as if her womb were quicksand.  Her  archetype appears in gospel, folklore and myth; Samson and Delilah, the Greek sirens, even  vagina dentata, a folk tale in which a woman's vagina is said to contain teeth. Yikes.
The toothed vagina is no sexist hallucination: every penis is made less in every vagina, just as mankind, male and female, is devoured by mother nature. – Camille Paglia
With her character in the hands of male writers and directors, the femme fatale is predestined for a comeuppance (quite often death)–but no amount of back end retribution can diminish the powerful precedent she sets. Morals aside, femme fatales may be the best fictional example we have of women using their innate power to advance their goals.
There is a lot a girl  can learn from a deadly woman. So pop your popcorn ladies…
Here are my twelve favorite  femme fatale performances for your viewing, and learning, pleasure.
[divider]
The Top 12 Femme Fatales in Cinematic History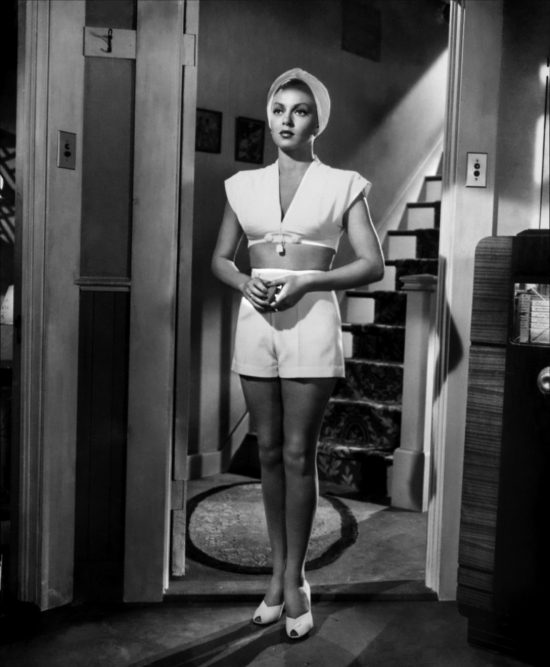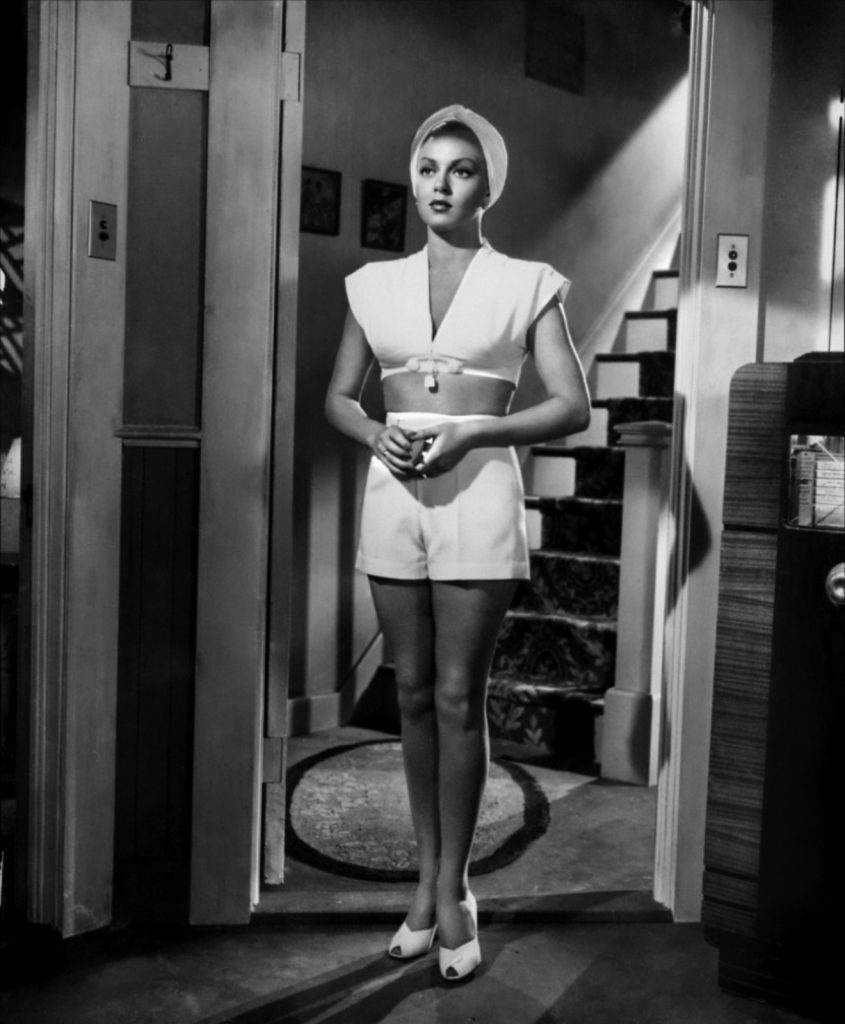 12. The Postman Always Rings Twice– Based on the 1934 novel by a James M. Cain that was considered so provocative when it first came out that  the city of Boston banned it, noire icon Lana Turner plays a buxom blond trapped in a loveless marriage. She seduces a drifter who  begins working in their diner, and together they conspire to kill her husband. The combination of Lana's ethereal innocence, and her not-so-innocent tight white shorts are irresistible.
Seduction archetype: The Goddess.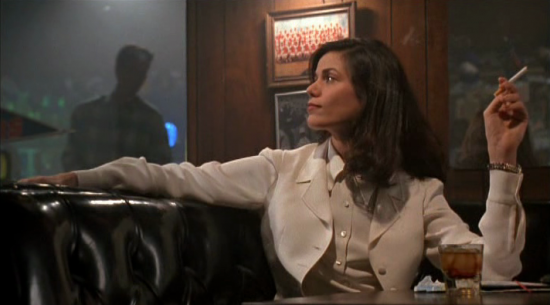 11. The Last Seduction– Linda Fiorentino plays Bridget Gregory, a cunning woman  who steals $ 700,000 from her husband and flees. She lands in Beston, a small town where her crooked lawyer advises her to lay low.  While there, she liaisons with a local guy and turns him into killer.  High notes: Forientino's androgynous swag, husky voice, and her ability to turn a boy-next-door into her love-addicted, dirty-work doing, play thing.
Seduction archetype: The Boss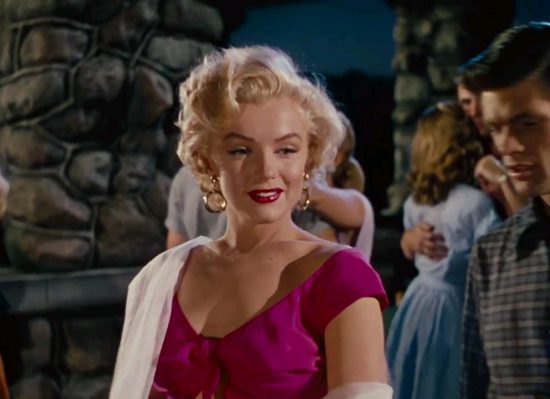 10. Niagara– In this 1953 technicolor film noire, Marilyn Monroe plays Rose, the younger and very attractive wife of a depressed vet. She and her lover conspire to kill her husband and fail. The tables turn when her husband plots  his revenge. Niagara has a morbid ending, but the sight of Marilyn in a tight fuschia dress, writhing in such a way that mesmerizes  the men on and off screen is unforgettable.  There's a ten-second shot of Monroe just walking away.
Seduction archetype: The Ingenue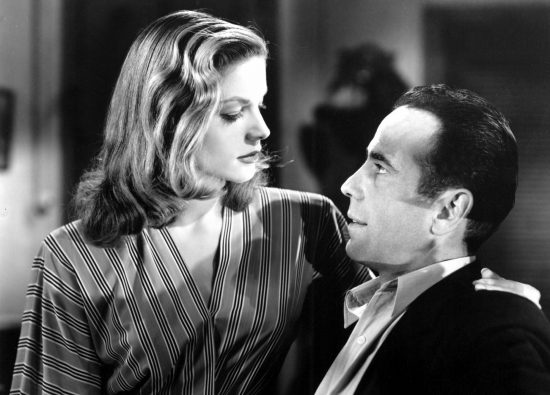 9. To Have and Have Not– To be honest, this is not a classic noir, but Marie, played by Lauren Bacall, is every bit of a femme fatale.This was Bacall's  first movie role, and behind the scenes she could barely get it together. Watching, you'd never guess.  She was 19 years old, but her extreme languorousness, that famous bewitching 'look' and her low,  breathy speech suggested a woman far beyond her years. It's no suprise that during the course of the film she and her much older co-star Humphrey Bogart fell madly in love. He  left his third wife, and embarked on a long and storied romance with Bacall. The on-screen chemistry is as authentic as it gets, and the dialogue is scintillating! Any woman who aspires to elevate her conversation above banal banter should take note.
 You do know how to whistle, don't you, Steve? You just put your lips together – and blow."
Seduction archetype: The Sophisticate.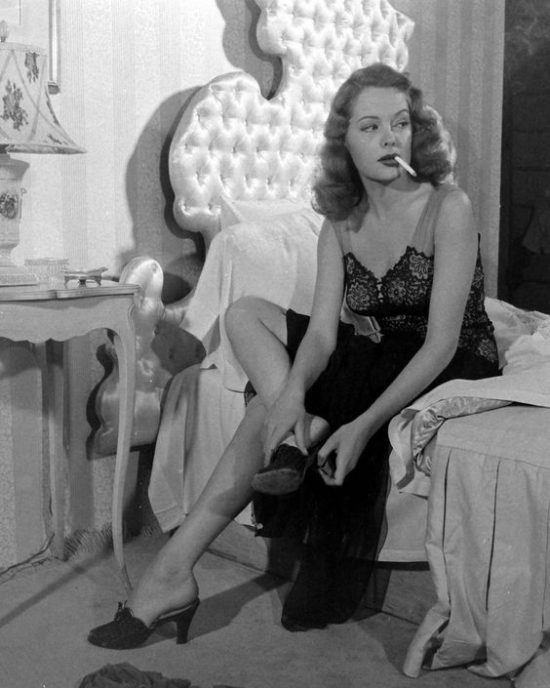 8.Out of the Past– Jane Greer plays Kathie Moffatt, a chameleon-like femme fatale on the run from her husband, who  eventually becomes the object of erotic obsession for a hard-boiled detective. Told in a series of melodramatic flashbacks, Greer shows the power of vulnerability, disarming with tenderness all the while using mystery to keep her lover at a distance.
Seduction Archetype: The Siren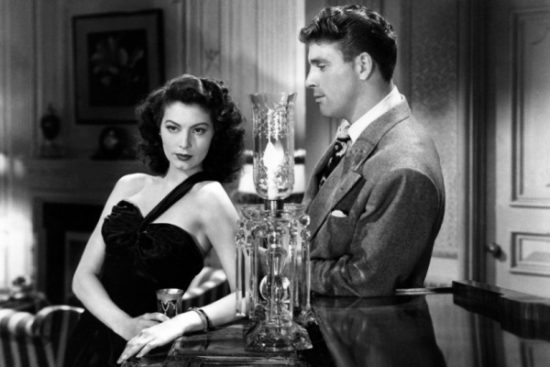 7. The Killers- In her breakout role, Ava Gardner plays the gorgeous and mysterious Kitty Collins, a woman at the center of a murder mystery. Her entrance is unforgettable, leaning against a piano and crooning a sultry tune, she stands out against the  women in the room like a panther with white fur. The Killers is a study in presence. Her eyes penetrate; her movement is  graceful and feline. The Killers was made during the studio era when young actresses like Gardner were coached in the art of on-screen seduction.  Gardner wrote in her biography, "A lot of people have told me through the years that it was The Killers that set me on the road to stardom, that defined my image as the slinky sexpot in the low cut dress, leaning against a piano and setting the world on fire."
Seduction Archetype: The Sophisticate.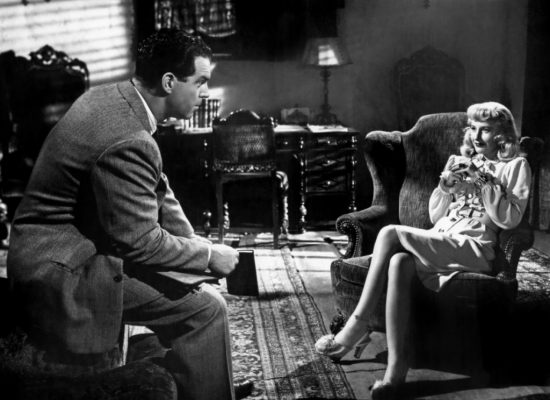 6. Double Indemnity–  If you only watch one film noir ever, this is the one to watch.  Double Indemnity is considered the definitive film noire, and Barbara Stanwyck, as Phyllis Dietrichson, executes a textbook seduction.  From the moment she  appears leaning over a  banister, draped in a towel, the chase is on. She seduces an insurance agent and convinces him to kill  her husband and make it look like an accident, so as to  collect the insurance money. The only downfall of the masterful movie is the horrible blonde wig the director insisted  Stanwyck wear. In his defense, he wanted her to look cheap.
Seduction Archetype: The Siren.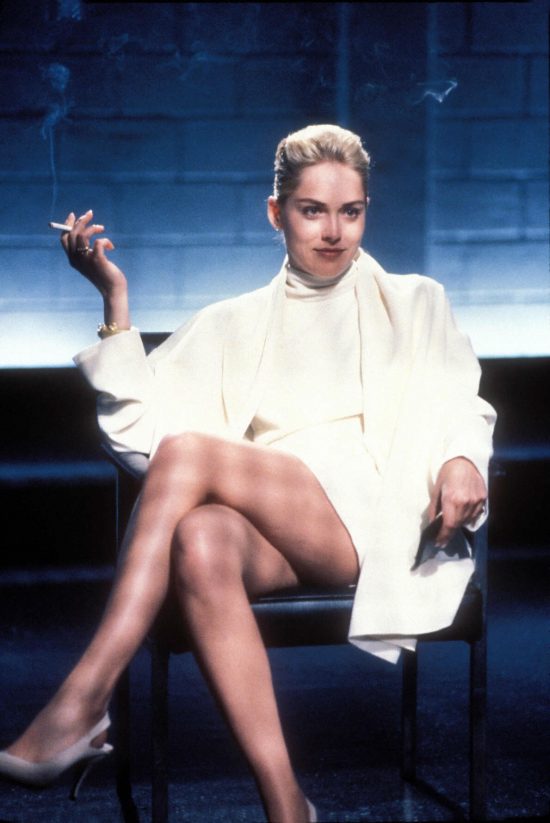 5. Basic Instinct– If you can get past the  gore of the opening scene during which an anonymous blonde mercilessly murders her lover with an ice pick– this is a great  neo-noire. Sharon Stone plays Catherine Tramell, a crime novelist and the last person to be seen with rocker Johnny Boz before his mysterious murder. Michael Douglas plays a homicide detective assigned to the case. He is determined to convict Tramell of the crime, only he gets caught in her seductive lair and the two begin a torrid affair. Stone plays the Hitchcockian ice blonde to the hilt and who can forget the gutsy interrogation scene where Stone uncrosses her legs….
Seduction Archetype: The Coquette.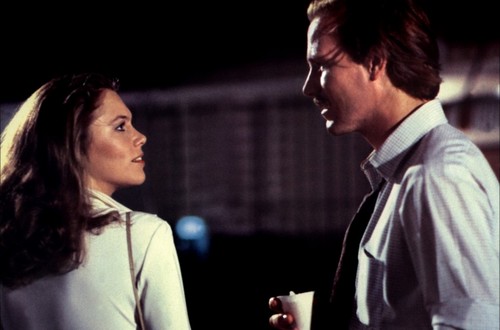 4. Body Heat– If there's one word to describe this 1981 neo-noire, it is steamy. Literally. The story takes place during a Florida  heat wave and the characters never appear on screen with a thin veil of sweat. Matty Walker, wife to a wealthy, unscrupulous businessman,  begins an affair with an inept,  womanizing attorney. Having fallen head first for the mysterious woman, Matty is able to convince her lover to kill her husband. Are you recognizing a pattern here? Kathleen Turner's frank mix of sexuality and coolness is exciting to watch. Of note: A master manipulator, Matty Walker gives you a step-by-step playbook of how to get a man to do just about anything. She also makes the case that every siren should own a billowy, white dress.
Seduction Archetype: The Sophisticate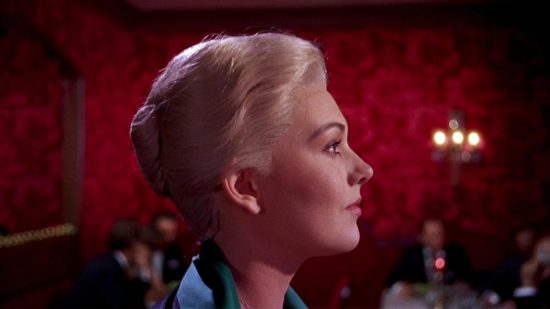 3. Vertigo-Kim Novak stars as the distant  femme fatale in Hitchcock's haunting psychological thriller that begins when  a wealthy shipbuilder hires a retired San Francisco to follow his wife –who's been acting strange. Novak seduces the detective from afar, her puzzling behavior and sphinx-like demeanor causing a man with acrophobia to scale buildings in her trail. With nuance that only Hitchcock can deliver, Vertigo proves that paradox is immensely sexy.
Seduction Archetype: The Enigma.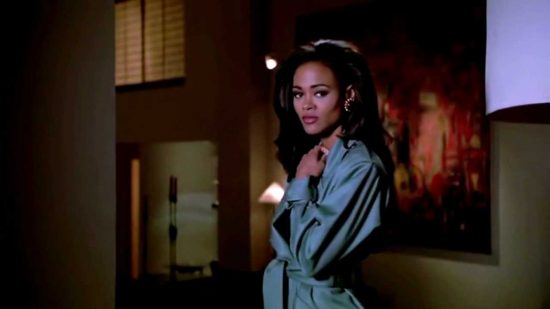 2. Boomerang- Robin Givens  plays Jacqueline Broyer,  a seductive executive in this romantic comedy about a playboy who meets his match. While not a classic film noire, Jacqueline is a ravishing femme fatale who uses her powers not for control– but for autonomy. She is the chooser.  With her victim trapped in a hopeless game of surrender and retreat, Boomerang is a modern example of how feminine power can be asserted in the boardroom and bedroom.
Seduction Archetype: The Boss.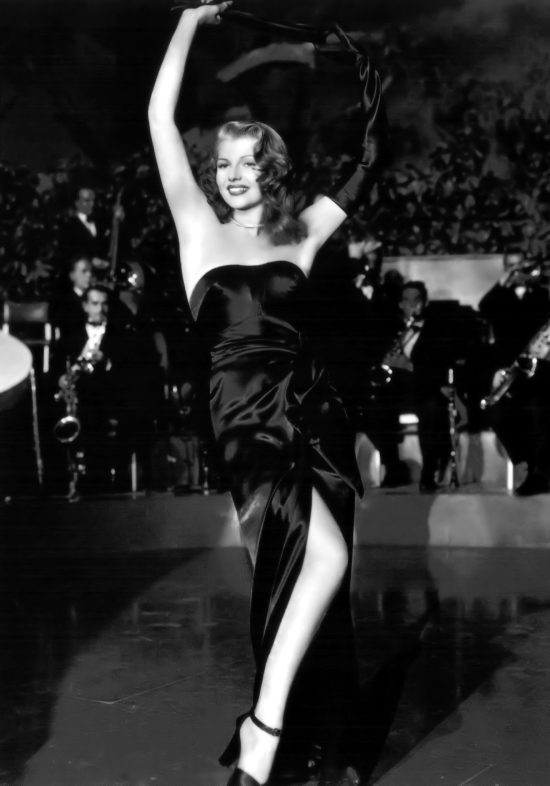 1. Gilda– Gilda is the film that made Rita Hayworth a superstar and the 'love goddess' of her time. She plays a hedonistic and flirtacious femme fatale married to an older man–a cold, wealthy, casino owner. Unbeknownst to her husband, Gilda has history with his right hand man, Johnny, and the two embark on an intense love-hate relationship in which Gilda teases him with her exuberant sexuality. It's hard to put Hayworth's performance in Gilda into words. Her erotic energy jumps off the screen. High point: Gilda dancing in sinful black dress, tossing her jewels to the crowd, and peeling her gloves like hosiery. Few things bring a woman to life like dance.
Seduction Archetype: The Siren.
Which film heroine do you most resemble? Discover your unique brand of captivation with my psychology-backed 13 Feminine Seduction Archetypes™ quiz.
xo,
Ayesha
The founder of Women Love Power®, Ayesha K. Faines is a writer, media personality, and brave new voice for feminine power and social change. Sought after for her provocative insights on culture, mythology and gender politics, she has been featured on MTV, Essence, Entertainment Tonight, The Michael Baisden Radio Show, AfroPunk, and Time among other media outlets. She's traveled the world lecturing before a number of universities, and she pens a column for Zora Magazine that explores the intersection of love and power. She is best known as a featured panelist on "The Grapevine". Ayesha is a graduate of Yale University and a former television journalist.