You are unbridled, erotic energy in its purest, most tantalizing form.
"Ten men waiting for me at the door? Send one of them home. I'm tired."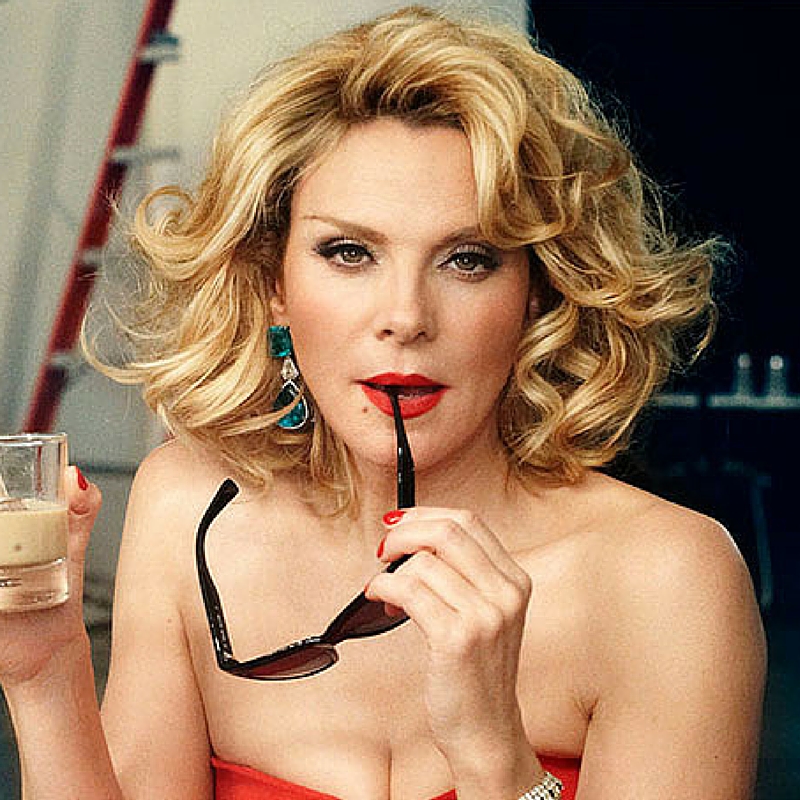 Samantha Jones in Sex and the City
Gilda (Rita Hayworth) in Gilda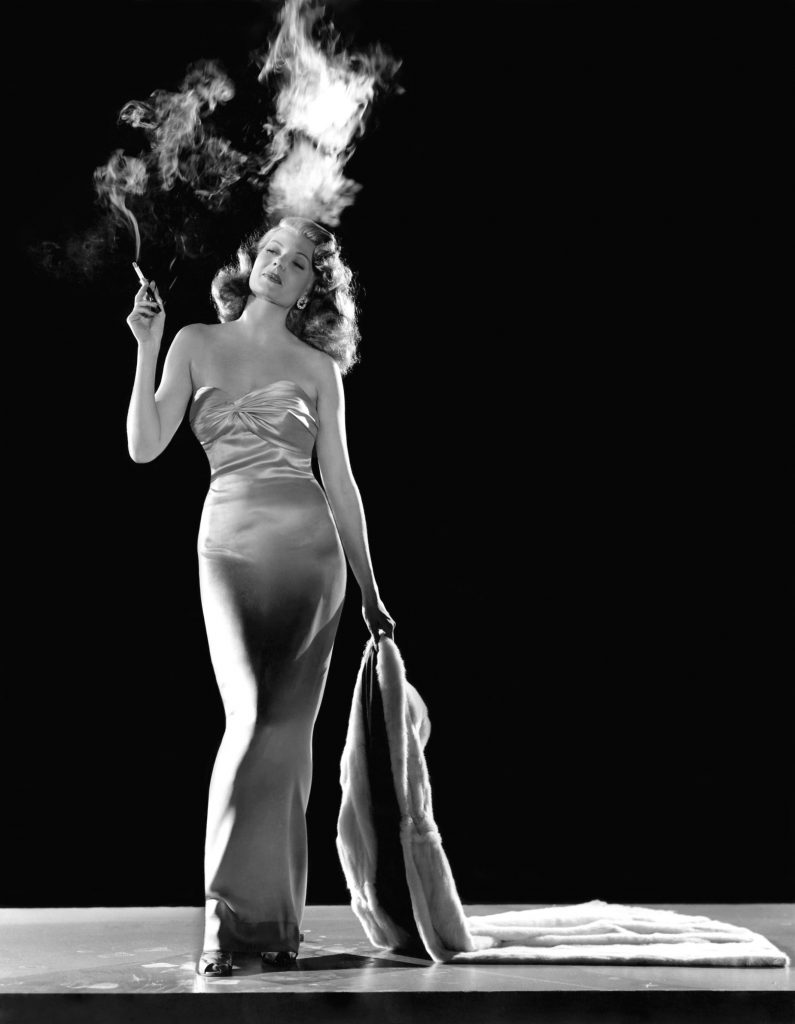 Your Potential To Captivate
You walk into a room and all eyes land on you. You radiate confidence, unselfconscious sensuality and palpable erotic energy. You are a male fantasy come to life, the personification of the great goddesses that man worshipped for some 25,000 years. When he encounters you, he experiences a strong, primal de ja vous. When you are fully tapped into your archetype (check out the lover course for a play-by-play on how to do this), you naturally appeal to a man's ego, his libido, and his taste for adventure– a potent combination in a world where many men, having surrendered to rigorous social codes and first world comforts, often long for something wild and unfamiliar.
The lover archetype, is the oldest and most instinctive psychological archetype in a woman's psyche. It represents a woman's most primal urge to procreate. Just as the Greek goddess Aphrodite caused mortals and deities to fall in love, when the lover archetype is active in a woman's psyche, she exudes a sublimating energy that both attracts and arouses.
Whenever we fall in love (or lust) the lover archetype is present. Consider what happens; our senses are heightened, we feel more beautiful, and sexually charged. The siren is so potent because you express all of the erotic energy of the lover archetype, without the restraints of a prominent secondary archetype.
Your passion and spontaneity are both a blessing and a curse.  
The blessing; you live in the moment, you are playfully spontaneous, and emotionally available. Consider Elizabeth Taylor's 7 marriages— for the better part of her adult life, the euphoric process of "falling in love" was far more fulfilling than staying in it. She was, however, so intoxicating to her suitors, that they lavished her with the world's most expensive  jewels, all tributes to their seismic infatuation.
The curse; the absence of other, more objective archetypes makes it difficult to commit to long-term projects and relationships. If you haven't learned to leverage and balance your lover energy, can be  difficult for you to exercise restraint, meaning you may find yourself in romantic liaisons that ignite and sputter faster than you'd hope. It's harder for you, than most, to wield your erotic charm tactfully– and you may even be taken advantage of.
In the Lover Master Class you'll learn to cultivate this powerful archetype powerfully...
The lover archetype represents the sacred erotic– the life force energy in every woman that sparks reproduction and creativity. Connection with THIS archetype is what makes a woman naturally captivating and seductive. Learn to cultivate the lover archetype to amplify pleasure, passion, and 'presence'. Channel that life force energy into creating your reality, increasing wealth and vitality, raising your vibe and your natural ability to attract people, love, and opportunity. Laugh often. Play more. Feel good. Heal the divine feminine within, own your sexuality and get anchored in the present moment. Command attention. Feel good in your skin– and open up to people and positive experience.​ Balance this archetype to temper with passion with reason– and to avoid emotional co-dependence. The lover archetype is the basis of all the seduction archetypes– so take this along with your dominant archetype to learn how to captivate.The Lover Master Class also contains the keys to captivate for all women who are dominant in their lover energy. Learn what makes you irresistible and who you attract!
In the Lover Master Class Bundle You'll ...
Ayesha has been an integral resource for building myself up after my spiritual awakening. Her wisdom is a grounding force. She puts so much into what she teaches and you can tell. I've never felt so comfortable with my feminine energy like I do now, and her Feminine Odyssey course is IT.
Thandiwe Mlauli
A year after breaking an engagement, I started to recover pieces of myself. But I still felt lost, cautious, and scared. So I dedicated 2020 to being the year I would be the confident woman I was prior to that relationship. I came across Ayesha's YouTube channel. I saw some of her videos and I took the Archetype Quiz. The results rang true and it was so thorough that it couldn't hurt to take the Feminine Odyssey course. In this course, I learned about the different facets of femininity and the divine goddess that is waiting to reemerge. Just like the Archetype Quiz, the Feminine Odyssey course was very thorough. It discusses the history behind the different archetypes. At times, It felt like I was participating in the "Odyssey" but the female version. Ayesha does an excellent job of connecting the ancient goddesses to our present by providing present-day examples of the archetypes. The past informs the present in this course! And the best part is that she also provides actions or habits that we can do to ignite the different archetypes within us. This course provided the blue print on how to inhabit these different parts of myself. I learned to embrace my beautiful complexities. And Ayesha's poise is an example of how to do it all with grace. The course is not only a way to discover the different faces of femininity within us. But it also helped me step away from the superficial definition of femininity as prescribed by today's media. It's not just sex, roses, and pink diamonds. Divine femininity is the 3D version of ourselves. It is sensual, strategic, spiritual, emotional, receptive, creative, and so much more.
Cynthia Paulino
I bought your Maiden and Lover bundle and it was so informative and scarily spot on. Thank you for all your wisdom.
Thank you so much for creating this sacred space. I just started your "Goddess Archetype" course. These are things I needed when I was younger... again, thank you.
Lauren
The Feminine Odyssey is a spiritual, mental and emotional journey that every woman must undergo. Most people spend years of their lives being diluted versions of themselves, and they die. But I dare myself and challenge myself to do the internal work to stand unafraid in my truth.
Brandy J
I can tell how much work you put into these courses. The amount of effort you put into studying, the volum e of information you've curated for our understanding and the immaculate production is truly noteworthy. You've poured your heart and soul into this. "
This course is truly amazing and eye opening. The first time I took the quiz, a little over a year ago, my seduction archetype was the siren (no surprise there). What I love about this course is that it is providing insight into how I move in the world and the "whys" behind it all. Also, it's a great confidence builder and allowing me to see where I need to work on cultivating balance in my personality. Ayesha, I appreciate the work you've put into creating such dynamic content.
Dawn Easter
These courses are what I've been looking for.After searching and taking different courses on self love, sexual liberation and feminine energy, that I later found out were surface level and not well thought out, I am glad that I invested in your work. In just the last two weeks there have been so many things to make me excited about making some changes in my life. Thank you so much!
M.O.
Ayesha! Gratitude to you! Thank you for this course.I have always felt wrong and in conflict with myself but today, as part of this course, I can finally say that the pieces of my brokenness have come back home to me. I have peace in my femininity. I have gone to church, to business seminars, etc. Nobody has ever explained this the way you just did. I am now excited about being in my own little Paradise and letting my energy attract what I wish to create! Thank you so much!
O. Benson
I purchased the Maiden courses last night, and OH MY GOD it has been a revelation of what happened to me in these last 9 years, this descent in the underworld... I'm literally crying, because in a day binge watching your videos you achieved what nobody (parents, psychologists, friends, quotes, books, consulting etc.) achieved in these long years : clarity in what I'm going through and why. And what awaits me and how I can act upon it. Thank you so much, I think you saved my soul with your videos.
Sophie
So I took the architype quiz again after incorporating some of your recommendations. Mt Lover archetype has increased above 70%. It is now at 76.2%! Wow! This is amazing! It was inactive before below 70%. I can also tell a difference in my attitude, emotions and my thoughts. I have also received many compliments, gifts and new opportunities! Thank you! This information is like a roadmap.
Shunika M.
I just wanted to write to say thank you for your amazing work. I bought your Sophisticate bundle and have completed the Lover section, and I feel it has pushed me so much further on my personal journey and evolution. So much of it rang true, and I'm so grateful to have found it at my age. The lesson that my energy is a gift and I inspire people as a Lover woman is so true and something I have been told often — but your course allowed me to fully believe and embrace it! The visual of the siren's island also makes perfect sense to me; by creating a life that gives me deep pleasure and fulfillment, not only am I making myself happy, but I am creating a world that the right kind of person would be interested in joining. Your guidance goes so much deeper than attracting men, it's a life philosophy.
Ella
Once I started this programme, I couldn't stop. I became annoyed by the work I had to do in between and rescheduled everything else. In truth, a few lines, nor even a paragraph can really truly give justice to this body of work. Coming from me that's pretty something too because I am extremely really read from spirituality to neuroscience, confident and live my life authentically. Despite being a Lover I've never fallen prey to the ridiculous stereotypes pumped out by the patriarchy either. As your programme states, I guess I saved my sanity over the years by developing the Sage aspect. I've always, always defined my own worth. But yet there was a part of me that I didn't understand. This part was like a bolt that was preventing the wheels from running smoothly. Where I had great success in life, I was unable to truly understand the reason why to enable me to replicate it for the times when I'd fallen. When I'd encounter really quite terrible jealousy and meanness (which there was a lot), once again, I couldn't understand why. I knew that I was full of love and kindness and could never comprehend why I was always encountering this abuse, and that's in adulthood! And so with my Lover self, I'd unconsciously go back for more. A lot came from women too who I dedicate my time to empowering. I knew also that despite being in my fifties I had a magnetic vibe from men. I knew this was because I'm a free-spirit, but it's clear from this programme the reason why was even more profound than I thought. As you can see I'm struggling to keep this short:). After going through the programme I immediately changed by branding to that of the Lover and my Instagram followers and engagement suddenly started picking up. Everything suddenly started to make sense. In the past, I've had counselling and all sorts to try and understand. To try and remove the bolt. Although it helped loads, the bolt still remained. Perhaps all counsellors should do your programme as a part of their studies! The only thing I'm cross about is that I've only just discovered you. It seems crazy because I never stop growing and evolving, and not shy to investigate everything! I suspect it came now because I had finally cut myself away from all the abusers. The cut was bloody. I took no prisoners. Deep down I knew these people although very close to me they were trying to destroy me. Each section is golden nugget after golden nugget. After going through the Lover programme, I thought there is no way that the Maiden programme could touch it or come even close. I was so fully satisfied after listening to Lover I didn't want to spoil my taste buds by listening to Maiden. Oh gheeze, how wrong I was, I entered a goldmine once more. You are truly a phenomenal woman. Your work is beyond magnificent!
Ingrid M.
What sets your soul on fire?
What is the spark about you that illuminates a room?
Prepare to embark on a breakthrough journey of self-discovery, designed to reveal the captivating, confident and powerful woman you were created to be.
Tens of thousands of women have taken the Feminine Archetypes Assessment on Women Love Power since its 2016 release. The assessment, based on Jungian archetypal psychology, was a two-year endeavor in the making, and it  provides an astoundingly accurate glimpse of your personality blueprint. 
What are the strengths, weaknesses, beliefs, values, aspirations and idiosyncrasies that make you YOU?
How does the world see you, at your  best?  How do you captivate? What is your calling? And what kind of tantalizing life would make you deliriously happy?
The Feminine Archetypes Assessment offers a brief snapshot of your personality, and your unique potential to captivate.  But be advised…
The key word is potential.
Everyday I receive letters from women who are pleasantly surprised by their  by their feminine archetypes results. They identify with the archetype descriptions, but they know they are not realizing their full potential–that's a pretty a tall order.
Many women still grapple with the self-defeating behaviors and limiting beliefs that are native to each archetype. Your weaknesses are often the price you pay for natural strengths.
The truth is,  the feminine archetype assessment results only scratch the surface, and  for years I've been developing a resource that will lead women to themselves. The Feminine Odyssey will teach you to own your greatness  and ignite your inner spark  by tapping into archetypal wisdom. 
You may be suffering under the yoke of expectations, and yearning to get free. You may want to know how to overcome the habits that hold you back. You may want to know how to captivate, naturally, by being MORE of who you are. 
You may may want to know how to curate a life that ignites your passion.You may feel unprepared and stuck as  you figure out your life path.  You may want to know how to kick your life into high gear, and reach YOUR next level.
The founder of Women Love Power®, Ayesha K. Faines is a writer, media personality, and brave new voice for feminine power and social change. Sought after for her provocative insights on culture, mythology and gender politics, she has been featured on MTV, Essence, Entertainment Tonight, The Michael Baisden Radio Show, AfroPunk, and Time among other media outlets. She's traveled the world lecturing before a number of universities, and she pens a column for Zora Magazine that explores the intersection of love and power. She is best known as a featured panelist on "The Grapevine". Ayesha is a graduate of Yale University and a former television journalist.