Your mysterious air and soulful demeanor magnetizes.
"I never said, 'I want to be alone.' I only said, 'I want to be left alone'. There is all the difference."
Your Potential To Captivate
You project a zen-like, earthy, soulfulness that is positively magnetic. At first glance, you may seem aloof, or even  quirky due to your reclusive, often spiritual personality, but you are neither cold nor narcissistic.
Ruled by the mystic archetype, you focus your emotions inward. You crave neither fame nor constant attention. Spiritual fulfillment and inner peace are your highest priorities. You yearn to feel connected to something greater.
You don't need validation, attention, competition, or connection to make you feel whole.  You may even flee those things for the comfort of solitude. You are content within yourself and that extreme self-possession is your most attractive quality.  
 You are comforting, grounding energy. You make  your lover feel seen and heard in a way that the rest of the world can not.
In her autobiography "My Art, My Life", Mexican artist Frida Kahlo's description of her lover, artist Diego Rivera, an otherwise comely man twenty years her senior, is positively breathtaking. It's as if the beauty of his soul overrides any of his corporeal flaws. In spite of their monumental love, Frida and Diego maintained an "open" marriage long  before that term even entered the popular vernacular, an extreme example of the enigma's ability to love with a light grip.
 You keep a part of you just for yourself. A man never feels he has "figured you out" hence you  forever remain an enigma. Into your mystery a man may fall, hoping to find his redemption in the solution. 
Your anti-seductive qualities...
Your deep internal focus can be at odds with developing your full sensuality and creativity. It's particularly hard for you to awaken  the naturally magnetic, sensual energy of the lover.  You may live in your head, at the expense of full body consciousness, which also compromises both  your sensuality and sexuality. Your self-sufficiency and introverted nature can easily leave you lonely and closed off from deep connection and attraction.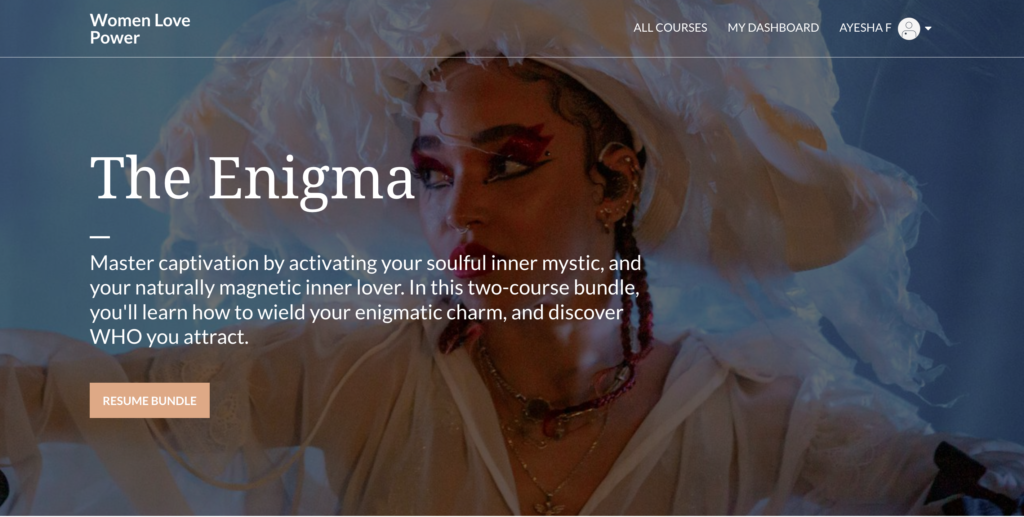 With the Enigma Master Class Bundle You'll ...
Ayesha has been an integral resource for building myself up after my spiritual awakening. Her wisdom is a grounding force. She puts so much into what she teaches and you can tell. I've never felt so comfortable with my feminine energy like I do now, and her Feminine Odyssey course is IT.
Thandiwe Mlauli
A year after breaking an engagement, I started to recover pieces of myself. But I still felt lost, cautious, and scared. So I dedicated 2020 to being the year I would be the confident woman I was prior to that relationship. I came across Ayesha's YouTube channel. I saw some of her videos and I took the Archetype Quiz. The results rang true and it was so thorough that it couldn't hurt to take the Feminine Odyssey course. In this course, I learned about the different facets of femininity and the divine goddess that is waiting to reemerge. Just like the Archetype Quiz, the Feminine Odyssey course was very thorough. It discusses the history behind the different archetypes. At times, It felt like I was participating in the "Odyssey" but the female version. Ayesha does an excellent job of connecting the ancient goddesses to our present by providing present-day examples of the archetypes. The past informs the present in this course! And the best part is that she also provides actions or habits that we can do to ignite the different archetypes within us. This course provided the blue print on how to inhabit these different parts of myself. I learned to embrace my beautiful complexities. And Ayesha's poise is an example of how to do it all with grace. The course is not only a way to discover the different faces of femininity within us. But it also helped me step away from the superficial definition of femininity as prescribed by today's media. It's not just sex, roses, and pink diamonds. Divine femininity is the 3D version of ourselves. It is sensual, strategic, spiritual, emotional, receptive, creative, and so much more.
Cynthia Paulino
I took the Maiden and Lover bundle and it was so informative and scarily spot on. Thank you for all your wisdom.
Once I started this program, I couldn't stop. I became annoyed by the work I had to do in between and rescheduled everything else. In truth, a few lines, nor even a paragraph can really truly give justice to this body of work. Coming from me that's pretty something too because I am extremely really read from spirituality to neuroscience, confident and live my life authentically. Despite being a Lover I've never fallen prey to the ridiculous stereotypes pumped out by the patriarchy either. As your program states, I guess I saved my sanity over the years by developing the Sage aspect. I've always, always defined my own worth. But yet there was a part of me that I didn't understand. This part was like a bolt that was preventing the wheels from running smoothly. Where I had great success in life, I was unable to truly understand the reason why to enable me to replicate it for the times when I'd fallen. When I'd encounter really quite terrible jealousy and meanness (which there was a lot), once again, I couldn't understand why. I knew that I was full of love and kindness and could never comprehend why I was always encountering this abuse, and that's in adulthood! And so with my Lover self, I'd unconsciously go back for more. A lot came from women too who I dedicate my time to empowering. I knew also that despite being in my fifties I had a magnetic vibe from men. I knew this was because I'm a free-spirit, but it's clear from this programme the reason why was even more profound than I thought. As you can see I'm struggling to keep this short:). After going through the program I immediately changed by branding to that of the Lover and my Instagram followers and engagement suddenly started picking up. Everything suddenly started to make sense. In the past, I've had counselling and all sorts to try and understand. To try and remove the bolt. Although it helped loads, the bolt still remained. Perhaps all counsellors should do your program as a part of their studies! The only thing I'm cross about is that I've only just discovered you. It seems crazy because I never stop growing and evolving, and not shy to investigate everything! I suspect it came now because I had finally cut myself away from all the abusers. The cut was bloody. I took no prisoners. Deep down I knew these people although very close to me they were trying to destroy me. Each section is golden nugget after golden nugget. After going through the Lover programme, I thought there is no way that the Maiden programme could touch it or come even close. I was so fully satisfied after listening to Lover I didn't want to spoil my taste buds by listening to Maiden. Oh gheeze, how wrong I was, I entered a goldmine once more. You are truly a phenomenal woman. Your work is beyond magnificent!
Ingrid M
The Feminine Odyssey is a spiritual, mental and emotional journey that every woman must undergo. Most people spend years of their lives being diluted versions of themselves, but I dare myself and challenge myself to do the internal work to stand unafraid in my truth.
Brandy J
I can tell how much work you put into these courses. The amount of effort you put into studying, the volume of information you've curated for our understanding and the immaculate production is truly noteworthy. You've poured your heart and soul into this. "
This course is truly amazing and eye opening. The first time I took the quiz, a little over a year ago, my seduction archetype was the siren (no surprise there). What I love about this course is that it is providing insight into how I move in the world and the "whys" behind it all. Also, it's a great confidence builder and allowing me to see where I need to work on cultivating balance in my personality. Ayesha, I appreciate the work you've put into creating such dynamic content.
Dawn Easter
These courses are what I've been looking for. After searching and taking different courses on self love, sexual liberation and feminine energy, that I later found out were surface level and not well thought out, I am glad that I invested in your work. In just the last two weeks there have been so many things to make me excited about making some changes in my life. Thank you so much!
M.O.
Ayesha! Gratitude to you! Thank you for this course.I have always felt wrong and in conflict with myself but today, as part of this course, I can finally say that the pieces of my brokenness have come back home to me. I have peace in my femininity. I have gone to church, to business seminars, etc. Nobody has ever explained this the way you just did. I am now excited about being in my own little Paradise and letting my energy attract what I wish to create! Thank you so much!
O. Benson
I purchased the Maiden courses last night, and OH MY GOD it has been a revelation of what happened to me in these last 9 years, this descent in the underworld... I'm literally crying, because in a day binge watching your videos you achieved what nobody (parents, psychologists, friends, quotes, books, consulting etc.) achieved in these long years : clarity in what I'm going through and why. And what awaits me and how I can act upon it. Thank you so much, I think you saved my soul with your videos.
Sophie
I took the archetype quiz again after incorporating some of your recommendations. My Lover archetype has increased above 70%. It is now at 76.2%! Wow! This is amazing! It was inactive before below 70%. I can also tell a difference in my attitude, emotions and my thoughts. I have also received many compliments, gifts and new opportunities! Thank you! This information is like a roadmap.
Shunika M.
I just wanted to write to say thank you for your amazing work. I bought your Sophisticate bundle and have completed the Lover section, and I feel it has pushed me so much further on my personal journey and evolution. So much of it rang true, and I'm so grateful to have found it at my age. The lesson that my energy is a gift and I inspire people as a Lover woman is so true and something I have been told often — but your course allowed me to fully believe and embrace it! The visual of the siren's island also makes perfect sense to me; by creating a life that gives me deep pleasure and fulfillment, not only am I making myself happy, but I am creating a world that the right kind of person would be interested in joining. Your guidance goes so much deeper than attracting men, it's a life philosophy. Thank you so much for your research and efforts in providing this for us.
Ella
The founder of Women Love Power®, Ayesha K. Faines is a writer, media personality, and brave new voice for feminine power and social change. Sought after for her provocative insights on culture, mythology and gender politics, she has been featured on MTV, Essence, Entertainment Tonight, The Michael Baisden Radio Show, AfroPunk, and Time among other media outlets. She's traveled the world lecturing before a number of universities, and she pens a column for Zora Magazine that explores the intersection of love and power. She is best known as a featured panelist on "The Grapevine". Ayesha is a graduate of Yale University and a former television journalist.