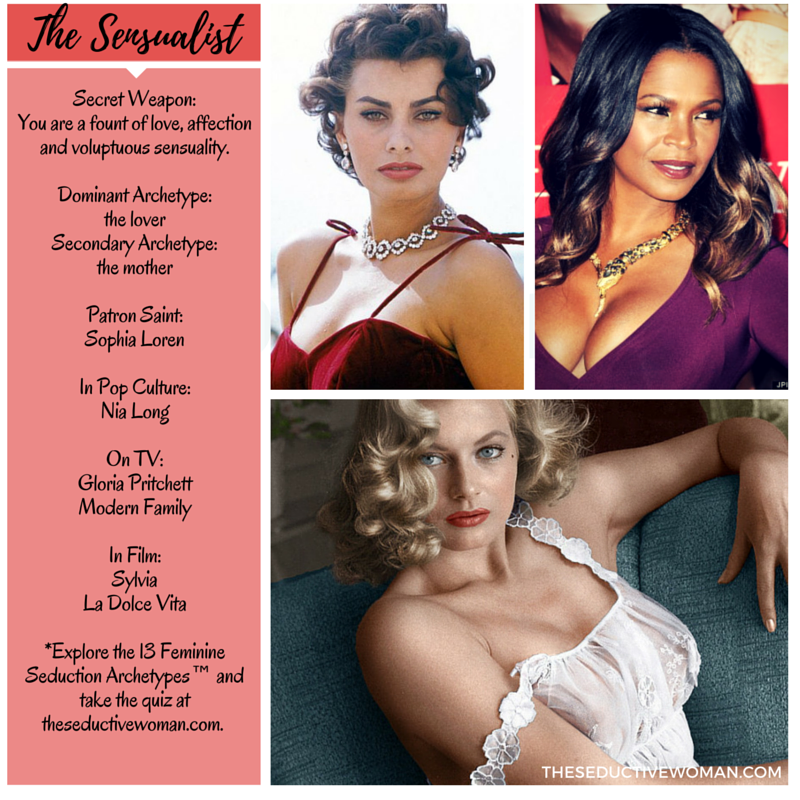 "There is a fountain of youth: It is your mind, your talents, the creativity you bring to your life and the lives of people you love."

-Sophia Loren
You are a fount of nurturing love, affection and robust sensuality. With the lover as your dominant archetype, you appreciate spontaneity, living in the moment, and rich, tactile experiences. Your secondary archetype, the mother, makes you warm, affectionate, and down-to-earth. You satisfy two powerful, primal male instincts; to procreate, and to receive physical and emotional nourishment.
In your presence, a man feels aroused, relaxed, and slightly coddled. You relish in the pleasure of taking care of others. You are a giving lover, and sexuality for you is very much a give-and-take. If you enjoy cooking, creating a meal for your man can be a tantalizing, erotic experience that he'll pine for. It's not just the food he enjoys, but the spirit in which it is prepared, presented, and enjoyed. Celebrity chef Nigella Lawson has been nicknamed the "Goddess of Pleasure"–her approach to cooking often described as border-line erotic.
There is nothing self-conscious or uptight about you. Your robust vitality penetrates those around you. Your warm, open energy encourages others to relax and be themselves. You can let your hair down, break into laughter, or fall into your lovers arms at a moments notice. When you live up to your seductive potential, admirers will find you positively intoxicating.
Discover the Sensualist seduction archetype in our one-of-a-kind Master Class.
Curious about your archetype? Take the psychology-driven Seduction Archetype Quiz.
Explore the Sensualist archetype on Pinterest!


Click to learn more about the other archetypes: Siren | Sophisticate | Boss | Bohemian | Coquette | Goddess | Enigma | Diva | Empress | Sensualist | Lady | Ingenue | Gamine
The founder of Women Love Power®, Ayesha K. Faines is a writer, media personality, and brave new voice for feminine power and social change. Sought after for her provocative insights on culture, mythology and gender politics, she has been featured on MTV, Essence, Entertainment Tonight, The Michael Baisden Radio Show, AfroPunk, and Time among other media outlets. She's traveled the world lecturing before a number of universities, and she pens a column for Zora Magazine that explores the intersection of love and power. She is best known as a featured panelist on "The Grapevine". Ayesha is a graduate of Yale University and a former television journalist.